Although on the one hand Lucy Slowe was doing a remarkable job as a teacher in Baltimore, rendering outstanding service in the Washington, D.C. public school system, and serving as a community activist in both cities, on the other hand she took time to play tennis. She did not just play tennis; she excelled at it. When she was an undergraduate at Howard, she joined the Women's Tennis Club, only to see her interest blossom over the years. She even encouraged the girls at Shaw Junior High School to play. Her family used one word to describe her interest in tennis: "insatiable." A fellow tennis player, who was a graduate of the Howard University School of Dentistry, laughingly told Marion Wright when he remembered Lucy: "She may have been Lucy Slowe, but on the tennis court she was Lucy Fast."
Lucy Slowe won 17 cups in tennis, playing in tournaments under the aegis of the American Tennis Association (ATA). Because all forms of association in American life – even sports – were racially segregated, it was necessary for African-Americans who wanted to compete in tennis – and in any other sport, for that matter – to create their own organization, another sign of the parallel universe. The ATA, then, was formed in 1916 and is reputed to be the oldest African-American sports organization in the United States. It was organized at a meeting held in the YMCA in Washington, DC. Prior to its formation,
| | |
| --- | --- |
| | …it had been the custom for [African-American] players from Baltimore, Washington, New York, Pennsylvania and the New England States to participate in invitational interstate tournaments. The first of these tournaments was held in 1898 in Philadelphia under the auspices of the Chautauqua Tennis Club. [But, then the U.S. Lawn Tennis Association issued a policy statement formally barring African-American tennis players from its competitions.] In 1916, the matches were played in New York City, with the ideal Tennis Club and the Turf Tennis Club acting as host, on courts located on West 138th Street….[In the face of these discriminatory policies,] the Association Tennis Club of Washington, DC and the Monumental Tennis Club of Baltimore, MD formed a temporary organization with Mr. D.O.W. Holmes as Chairman….On November 1, 1916 a letter was sent to all of the Negro Tennis Clubs known to be functioning throughout the United States, inviting them to send representatives to a meeting to be held in Washington, DC on November 30, 1916. It was at this meeting that the plan for permanent organization was approved. |
Here again Dwight O.W. Holmes – a year after Lucy Slowe moved to Washington – played a major role in one of the most significant events in her life, this time starting an organization that would enable her to achieve a firm footing in a sport she dearly loved.
In August 1917, the first National Championship Tournament was held at Druid Hill Park in Baltimore, MD, with Monumental Tennis Club acting as host. There were only three events: Men's Singles, won by Talley Holmes; Women's Singles, won by Miss Lucy Slowe; and Men's Doubles, won by Talley Holmes and Sylvester Smith.
Talley Robert Holmes, like Lucy Slowe, was a college graduate. He earned a degree in mathematics from Dartmouth College in 1910 and "…served as an interpreter and intelligence officer in World War I. Upon returning to Washington, DC, he taught German, French, Latin, and mathematics in the District school system." He would go on to study law at Howard University and earn a degree in 1924. He would also become Lucy Slowe's fellow Washingtonian as the owner of the Whitelaw Hotel, the largest hotel available to African Americans in Washington at the time.
The Afro American had announced in its September 16, 1916, edition that the annual open-to-all National Tennis Tournament would be held in Baltimore, Maryland. The venue would be the Druid Hill Park Courts.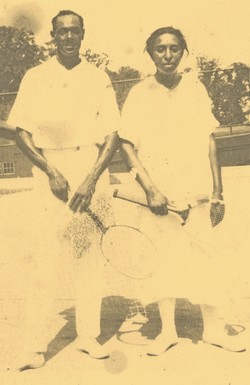 The paper pointed out that it was not unlikely that the national singles champion, Talley Holmes of Washington, D.C., as well as the national mixed doubles champions, Miss Lucy D. Slowe and Dr. John Wilkerson, would be seen there in action for the first time that session How did she dress for her favorite game? What did she look like? One report holds that women tennis players were "Wearing ankle-length skirts, long-sleeved high-neck blouses, and leather tennis shoes." Not Lucy Slowe, as one picture shows.